Industrial Furniture
Sanipure Water Systems is one of the leading manufacturer, supplier and exporter of superior quality Industrial Furnitures in different types, various sizes, and grade qualities as we offer our products according to the client's requirements and specifications.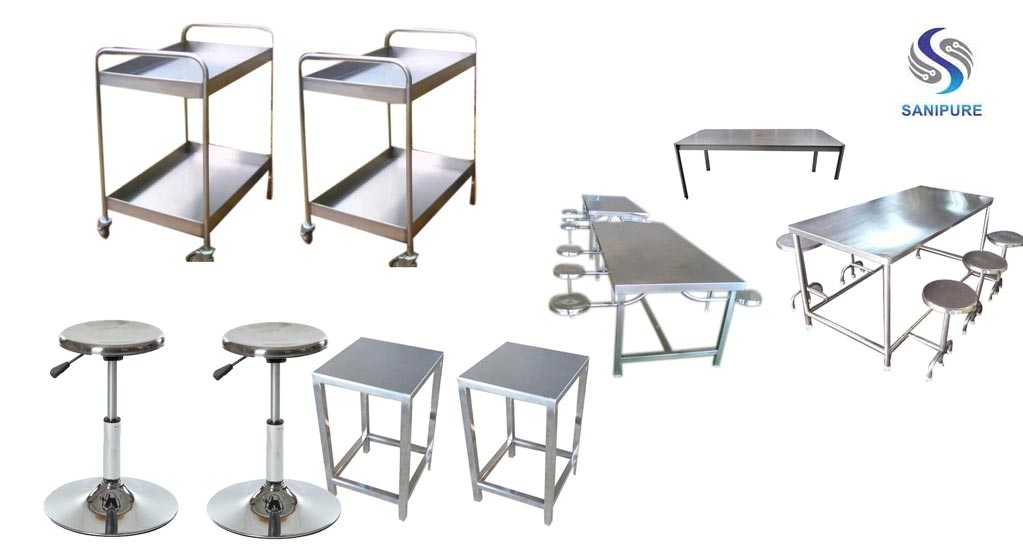 Buy High-Quality Products at Exciting Prices from Sanipure Water Systems in Mumbai-India.
WhatsApp
What are Industrial Furnitures?
Industrial Furnitures are different types of stainless steel furniture according to their functional and operative needs like benches, tables, stools, carts, trolleys etc. to be used for various industrial activities to be done efficiently.
Why Sanipure Water Systems?
The Industrial Furnitures industry is evolving continuously and thus manufacturing of these products needs specialised machineries. These necessities to follow strict guidelines to .meet the specified standards to develop these Industrial Furnitures products as per the government rules and regulations. Numerous equipment and component products are needed to accomplish the processes and make the final end product. At Sanipure Water Systems, by using cutting edge industrial manufacturing methods and quality controls through production sections we confirm that customers get prime grade products custom-made to client's requirements. Each product is developed as per the ISO standards and is safe and hygienic.
Sanipure Water Systems's Industrial Furnitures are made of superior grade stainless steel which is resistant to corrosion, chemical abrasion and is designed to withstand high pressure and compression. Sanipure Water Systems's Industrial Furnitures are easy to use and handle as all its parts are welded by argon welding. Its well-designed look gives elegant and aesthetic feel which goes well in enhancing with different styles of interior settings.
Why Stainless Steel is primarily used in Industrial Furnitures? Stainless steel is mainly used in Industrial Furnitures parts or components because it provides the easily cleanable, sterile choice for strict hygiene conditions. There are many benefits of using stainless steel material like Aesthetic appearance, Corrosion resistance, Ease of fabrication, Fire and heat resistance, and Hygienic, Strength-to-weight, and Impact resistance.
SS 304. SS 304 L, SS 316, SS 316L are primary grades of stainless steel used in fabrications. These effortless retained surface of stainless steel delivers a contemporary and sleek modern look as well, making it a primary choice for wide ranging industries.
Sanipure Water Systems's Industrial Furnitures are 100% quality checked and tested since it is manufactured by the latest well-equipped CNC machinery and latest techniques like cutting and bending and for any other structural flaws by our highly qualified professional staff according to Indian and international industry standards guidelines.
Brand
Sanipure
Category
Furnitures
Product name
Industrial Furnitures
Material type
SS304L, SS316L
Min order Qty
1pc
Packaging Type
Wooden, Carton, Corrugated Box, Plastic Wrap
Size in inch
customized
Surface treatment
polished
Installation type
Threaded
Features
Aesthetic look
Corrosion-free
Precision made
Smooth surface finishing
Highly durable
Easily washable
Easily cleanable
Cost-effective
Sanipure Water Systems's Industrial Furnitures are extensively used for stainless steel furniture needs diverse applications and in several industries like Pharmaceuticals, Hospital industry, Residential housing, Chemical plants, Food processing, Breweries, Hotels, Abattoirs, Cold Storage Warehouses, Airports, Supermarkets, Malls, Cinemas.
Since 2013 Sanipure Water Systems provides superior quality products that are functionally designed and precision manufactured to meet our esteem customer's requirements and specifications according to Indian and international industry standards at competitive and reasonable prices.
Type of Industrial Furniture
Popular Searches for Sanipure Water Systems's Industrial Furnitures: industrial furniture online india, industrial furniture design, buy industrial furniture online, industrial furniture Mumbai, vintage industrial furniture, furniture exporters in jodhpur, best of exports, distress furniture online india
We Supply in listed cities in India
Vishakapattnam, Hyderabad, Chennai, Pondicherry, Goa, Thane, Vasai, Pune, Banglore, Cochin, Madurai, Kerala, Orissa, Jammu & Kashmir
. Ranchi , Sikkim, Uttar Pradesh, Lucknow, Telangna, Rajasthan, Maharashtra, Punjab, Haryana, Dehradun, Assam, Gurgaon, Noida, Faridabad, Tamilnadu, Karnataka, Mysore, Daman and Diu, Thiruvanthapuram, Jaipur, Aizawl, Guwahati, Kozhikode, Raipur, Vishakhapatnam, Jabalpur, Bhopal, Gwalior, Ludhiana, Rajahmundry, Agra, Bhubaneshwar, Rajkot, Varanasi, Bhilai, Haridwar, Meerut, Ranchi, Ahmednagar, Akola, Amravati, Aurangabad, Baramati, Beed, Bhandara, Bhiwandi, Buldhana, Chandrapur, Chimur, Dahanu, Dhule, Dindori, Erandol, Gadchiroli, Hatkanangle, Hingoli, Ichalkaranji, Jalgaon, Jalna, Karad, Khed, Yavatmal, Kolaba, Kolhapur, Kopargaon, Latur, Malegaon, Mumbai, Nagpur, Nanded, Nandurbar, Nashik, Osmanabad, Pandharpur, Parbhani, Rajapur, Ramtek, Ratnagiri, Raver, Sangli, Satara, Shirdi, Shirur, Solapur, Wardha, Washim, Andhra Pradesh, Jammu and Kashmir, Nagaland, Uttarakhand, Lakshadweep, Arunachal Pradesh, Jharkhand, Odisha, West Bengal, Himachal Pradesh, Andaman and Nicobar Islands, Puducherry, Bihar, Chandigarh, Meghalaya, Chhattisgarh, Madhya Pradesh, Dadar and Nagar Haveli, Mizoram, Tripura, Gujarat, Manipur, Telangana, Delhi