Stainless Steel Drainage System
Sanipure is one of the leading manufacturer, supplier and exporter of superior quality Stainless Steel Drainage System in different types, various sizes, and grade qualities as we offer our products according to the client's requirements and specifications.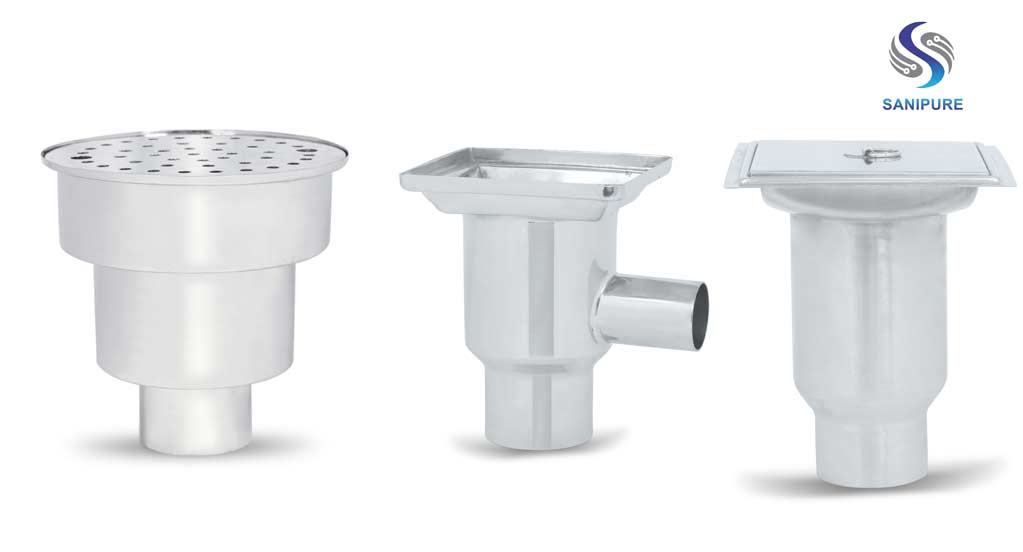 Buy High-Quality Products at Exciting Prices from Sanipure Water Systems in Mumbai-India.
WhatsApp
What is Stainless Steel Drainage System?
The purpose drainage system of any location such as commercial and industrial is to drain out all the impure or waste water and harmful substances from internal structure to the main sewage system of the area.

Through Drainage system, sewage or waste water is collected, transported through various drainage parts and components and dispose it through outlet connecting main sewer pipe or gutter in the vicinity.

It generally works with the help of gravity from downward slope of the structure through large diameter pipes and sewage gutters.

Why Stainless Steel is primarily used in drainage system?
Stainless steel is mainly used in drainage parts or components because it provides the easily cleanable, sterile choice for strict hygiene conditions. There are many benefits of using stainless steel material like Aesthetic appearance, Corrosion resistance, Ease of fabrication, Fire and heat resistance, and Hygienic, Strength-to-weight, and Impact resistance.

The effortless retained surface of stainless steel delivers a contemporary and sleek modern look as well, making it a primary choice for drainage industry for selecting drains, grating and components. SS 304. SS 304 L, SS 316, SS 316L are primary grades of stainless steel used in drainage system.

Sanipure offers wide range of product like Stainless Steel Drain trap, Stainless Steel Floor Trap, Stainless Steel Nahani Trap, Stainless Steel Gully Trap, Stainless Steel Drain Strainers, Stainless Steel Floor Drain, Stainless Steel Main Drain, Stainless Steel Channel Drain, Stainless Steel Drain Box, Stainless Steel Floor Drain Traps, Stainless Steel Floor Drain Strainers, Stainless Steel Floor Strainer, Stainless Steel Grease Trap, Sterile Floor Drain Traps, Non Sterile Floor Drain Traps, CIP Drain trap, Pharmaceutical Drain Traps and Amul Trap.

Sanipure's Stainless Steel Drainage products are extensively used for diverse applications and in several industries like Pharmaceuticals, Hospital industry, Residential housing, Chemical plants, Food processing, Breweries, Abattoirs, Cold Storage Warehouses, Airports, Malls, Cinemas.


Type of Stainless Steel Drainage System
Popular Searches for Sanipure's Stainless Steel Drain Trap: drainage system in india, types of drainage system, how mumbai drainage system works, drainage system agriculture, drainage system in mumbai ppt, drainage system in building, drainage system and efficiency in Mumbai, importance of drainage system